I love reading or listening to books in the tub, and sometimes, when life gets really hectic, it's the only way I can wind down and escape. A year ago, I purchased a Kindle Oasis because it is a waterproof e-ink reader and can be paired with headphones for listening audiobooks. No more worries about dropping my ereader in the tub! I love my Oasis so much, I decided to team up with some of my favorite authors--Jayne Ann Krentz, Darcy Burke, and Christina Dodd--to offer a giveaway for one lucky US reader just in time for the holidays!!
Together we are giving away:
❥ Kindle Oasis
❥ Water-safe fabric cover
❥ Audiobook download code for CONCRETE EVIDENCE
❥ 4 ebooks:
THE VANISHING by Jayne Ann Krentz

LADY OF DESIRE by Darcy Burke

DANGEROUS GROUND by Rachel Grant

WRONG ALIBI by Christina Dodd
​
You can't win if you don't enter here ⬇⬇
Enter daily November 29 through December 5!
---
If you didn't win a print ARC of CRASH SITE here are THREE more opportunities to enter, but all three contests close at 11:59 pm Pacific TONIGHT.
Not all of the winners claimed their prize last time, so I have EXTRA copies to give away and will probably be awarding more than 5 copies per contest. If you enter any of these, be sure to check your junk mail this week - you don't want to miss out if you won!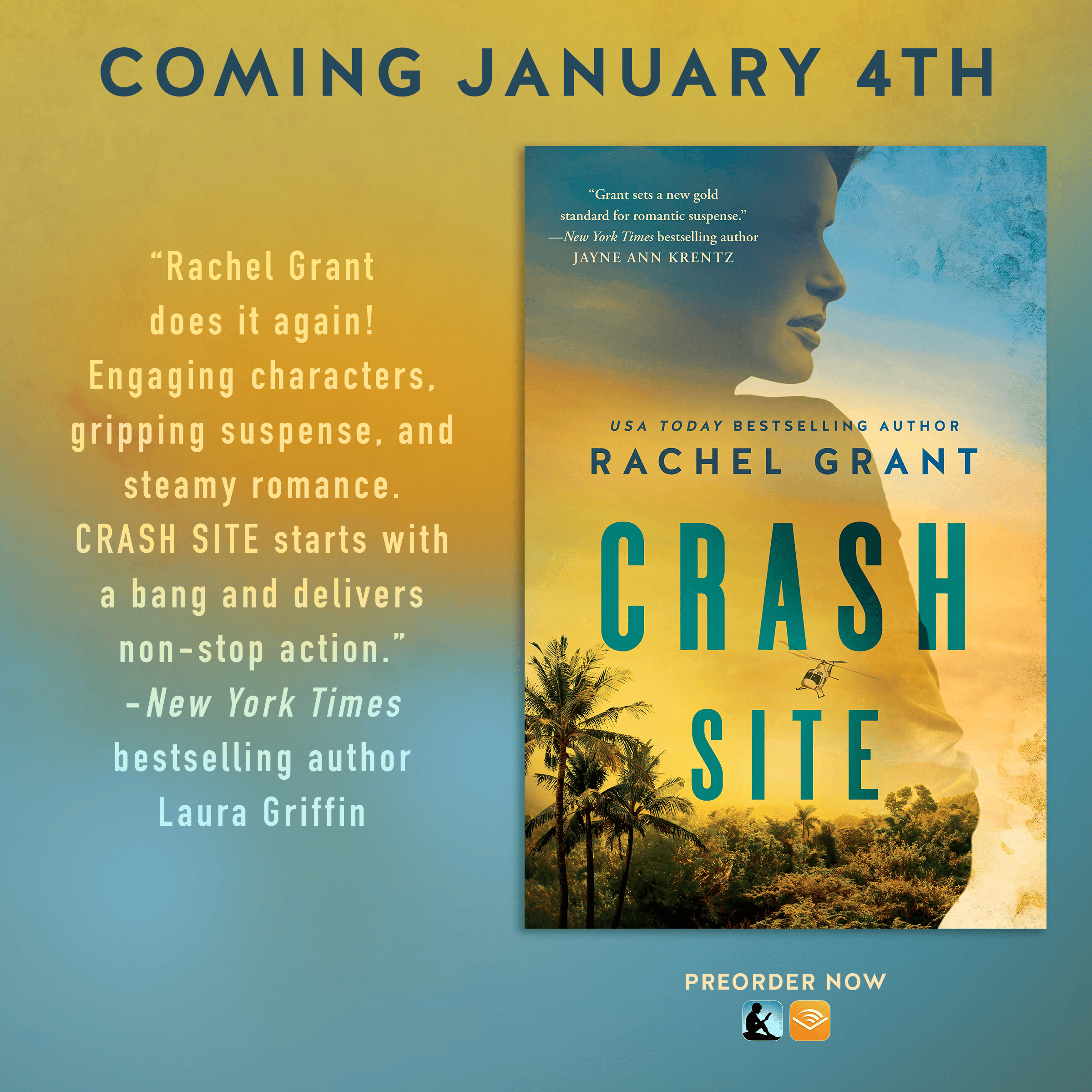 For archaeologist Fiona Carver, the Caribbean glistens with untold menace in a heart-racing novel by Rachel Grant, USA Today bestselling author of Dangerous Ground.
Fiona Carver has landed a dream assignment: conducting an archaeological inventory of Ruby Island, a privately owned, pristine gem in the Caribbean. Two months in paradise exploring and mapping a lush rain forest, vast caves, and a seventeenth-century star fort and following up on legends of hidden Spanish gold. Add a simmering reunion with wildlife photographer Dean Slater and it's enough to take Fiona's breath away. But the sparkle fades when Dean's arrival is met with sudden, terrifying danger.
Reunited and determined to see the project through, Fiona and Dean find themselves in a swirl of intrigue as they delve into the complex history of the unspoiled refuge, now a tropical haven for billionaires and their secrets. But the work isn't easy, as someone appears determined to kill the project—by any means necessary.
As betrayal casts tropical storm clouds over Ruby Island and treasured friendships dissolve into distrust, one thing becomes clear: Fiona and Dean are trapped in a dangerous paradise.
PLEASE NOTE: because the publisher is an imprint of Amazon Publishing, the ebook is only available at Amazon.
---
FREE EBOOK JUST FOR YOU!!
This year, I've teamed up with 12 fabulous romantic suspense authors to provide my VIP subscribers with great FREE books! Once a month, in one of my newsletters you will find a link to a free romantic suspense ebook download.
This month your free book comes from Caitlyn O'Leary.
---
I can't WAIT to read this book - but YOU have a chance to read it early!!
Chandra Blumberg's debut novel looks utterly adorable and like something my readers would love, so I asked Chandra if she'd be willing to give away print ARCs to TWO of my VIPs!!
From debut author Chandra Blumberg comes a playful, heartfelt romance about chasing your dreams and finding love in the process.
Alisha Blake works her magic in the kitchen, creating delectable desserts for her grandfather's restaurant in rural Illinois. Though Alisha relishes the close relationship she has with her family, she can't help but dream about opening a cookie shop in Chicago. She may be a small-town baker, but Alisha has big ambitions.
Then a dinosaur bone turns up in her grandparents' backyard. When paleontologist Quentin Harris arrives to see the discovery for himself, he's hoping that the fossil will distract him from a recent painful breakup. Instead, he finds Alisha―and sparks fly. The big-city academic and the hometown baker seem destined for a happily ever after.
But Alisha is scared to fall in love. And Quentin's trying to make a name for himself in a competitive field, which gets even more complicated when the press shows up at the dig site. For love to prevail, the two may have to put old bones aside―and focus on the future.
---
Are you wondering what was in my Mystery Birthday Box? I was going to share photos in this newsletter, but it hasn't been mailed yet (still waiting on one prize to show up in the mail) and I don't want to spoil the surprise for the winner, so look for that in my next newsletter along with the poll results! Who do you think won favorite hero? Should I run a favorite heroine contest next?
I hope my American readers had a lovely long Thanksgiving weekend. Both my children were home from college and it was so wonderful to have the family time after two months of being empty-nesters. We had a small holiday with just the four of us on Thanksgiving Day, and the day after joined extended family for "leftover Thanksgiving" in which we all shared our leftovers and played games. It was SO. MUCH. FUN!! Leftover Thanksgiving might become a new tradtion, because it was all the pleasure of family and food, but with the labor being low-key and done at home the day before. 5/5 stars highly recommend!! 😍
Happy Hanukkah to those who celebrate!
​